Lowest downtime in the industry
The centrifugal extraction sieves are designed to generate the maximum possible starch yield. 
The starch is extracted by centrifugal sieving. The pulp is placed on a rotating sieve which is designed to allow the starch to pass but block fibres. During the sieving process, water is added to wash the maximum amount of starch out of the pulp. 
Process overview
Centrifugal Sieve Coupling Drive
The SiccaDania centrifugal sieve coupling drive is designed for easy maintenance and with fewer spare parts. With the needed frequency converter, the centrifugal sieve allows for flexible rotation speeds which in return could optimise the local process demands. The Coupling Drive is a more energy-efficient centrifugal sieve however requires more floor space.
Centrifugal Sieve Belt Drive
The belt-driven centrifugal sieve is a more compact sieve. The design is optimised to fit into small spaces without compromising the starch quality.
Benefits of the Centrifugal sieves
Highest starch yield (optimal sieve configuration)

 

Sieves with long service life

 

Easy and stable operation (automatic feed pressure regulation)

 

Easy maintenance: a unique opening system for fast access to the inner part of the machine, and fast exchange of worn parts.

 

Low maintenance (vibration-free, robust design)

 

Minimum cleaning downtime: self-cleaning sieve cone and CIP design (clean-in-place)

 

Low energy use: direct drive or belt drive

 

High production capacity: greater than 40m3 /hr per sieve

 
Optimal tailor-made design
Multistage capacity flexibility
Serial and parallel set-up
High capacities
Easy installation and operation
Sanitary & stable sieve foundation
Low power consumption
Less maintenance
Full stainless steel construction
Robust design
Skid-mounted
Sustainable & long durability
Countercurrent starch extraction
Excellent starch quality
Highest extraction efficiency
No free starch loss
Conical sieve baskets
Self-supporting on bearing
Minimum vibration
Easily removable at front
Highest sieve membrane quality
The minimum fine fibre in starch milk
Easiest operation
In-progress cleaning system
Automated cleaning by built-in spray nozzles
Continuous & smooth operation
Cleaning-In-Place (CIP)
All materials suitable for CIP
Benefits of the Centrifugal sieves
Highest starch yield (optimal sieve configuration)

 

Sieves with long service life

 

Easy and stable operation (automatic feed pressure regulation)

 

Easy maintenance: a unique opening system for fast access to the inner part of the machine, and fast exchange of worn parts.

 

Low maintenance (vibration-free, robust design)

 

Minimum cleaning downtime: self-cleaning sieve cone and CIP design (clean-in-place)

 

Low energy use: direct drive or belt drive

 

High production capacity: greater than 40m3 /hr per sieve

 
General technical data
| | | |
| --- | --- | --- |
| | HSC 850* | HSC 1000* |
| Netload (kg) | 1200 | 1500 |
| Dynamic load (kg) | 1820 | 2275 |
| Gross load (kg) | 1400 | 1750 |
| Capacity potatoes (t/h) | 30 | 40 |
| Capacity roots (t/h) | 19 | 25 |
Centrifugal Sieve Coupling Drive

| | | |
| --- | --- | --- |
| Model: | HSC 850* | HSC 1000* |
| A (mm) | 2230 | 2230 |
| B (mm) | 3045 | 3155 |
| C (mm) | 1510 | 1720 |
Centrifugal Sieve Belt Drive

| | | |
| --- | --- | --- |
| Model: | HSC 850* | HSC 1000* |
| A (mm) | 2070 | 2230 |
| B (mm) | 1980 | 2200 |
| C (mm) | 1510 | 1710 |
Centrifugal Sieves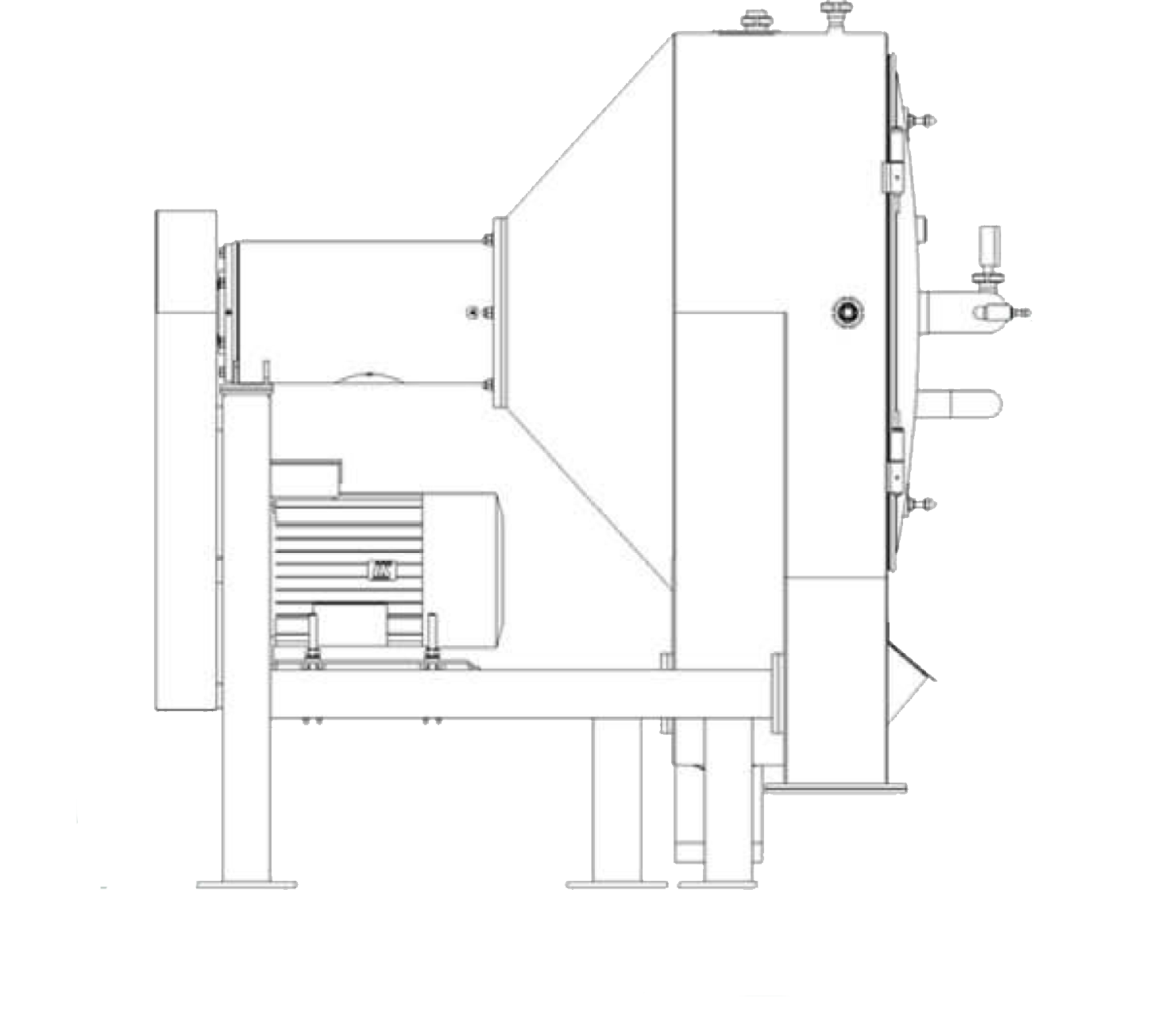 Download