Cross flow membrane filtration for the dairy and food industries
Cross Flow membrane filtration technologies provide so many possibilities and options today – and selecting the correct and most optimal solutions for any given application can be a challenging process. From white cheese, fresh fermented products like Skyr, Greek yoghurt and Cream Cheeses, Lactose reduced products to the concentration of milk and  plant-based proteins, solids and nutrients, membrane filtration allows for a wide range of processes.
For some products, membrane filtration is the only viable solution for achieving feasible results. Our team of experts will help you sift through all the options and choose the one best suited for your needs. All plants are designed according to the customer specification, whether that be for large continuous operations, low process volumes, viscous products or as batch operation.
SiccaDania Filtration's team has more than 200+ years of experience designing and commissioning cross flow membrane filtration systems around the world.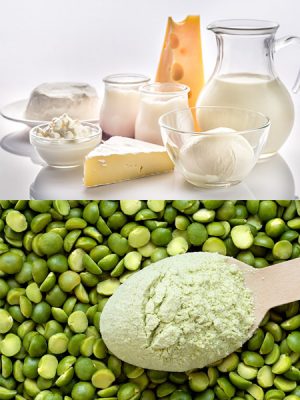 Customised standard solutions
Plug & produce
SiccaDania Filtration customised standard solutions approach allows for a unique, yet standardised designed.
All filtration plants are "Plug & Produce", easy to maintain, operate and adopt to future requirements.
The membrane filtration plants are all designed to be:
Easy to operate
Low energy consumption
Less waste
Low noise emission
Easy extension
Short delivery time
SiccaDania standard application software
SiccaDania filtration has developed an intuitive and functional application software. With a proven software, start up and commissioning will be trouble free.
The application software enables:
Repeatability and security
Fast return on investment
Higher productivity and consistency
Effective service
Experts will be able to access the plant online for fast trouble shooting and upgrades.
In case that customer do require customized control solutions, SiccaDania can also deliver the necessary high standard FDS (functional descriptions) including the required FAT/SAT and subsequent commissioning.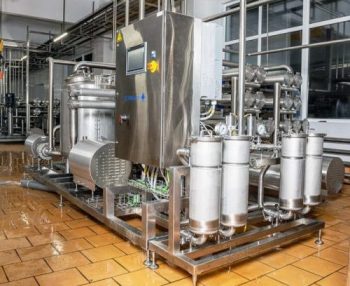 Replacement membranes & spare parts
SiccaDania Filtration provides membrane replacement as well as spare parts for all installed filtration plants.  Please feel free to contact us directly with your replacement requirements. SiccaDania Filtration offers replacement membranes and spare parts at attractive prices and delivery terms.
Upgrades, adoption, trouble shooting, optimisation & consultancy
If your requirements involve upgrading, further optimisation, solving present issues and/or expansion of an existing filtration plant, SD Filtration is a strong partner you can depend on. Based on SD Filtration's in-depth knowledge and long experience within dairy membrane filtration, they can support you with a full range of competencies to investigate, analyses, re-design, automate as well as deliver and commission optimal solutions. SD Filtration also extend their service and support philosophy with intelligent "adoption" of existing membrane plants through simple implementation of their standard application software.
Check out all our SiccaDania services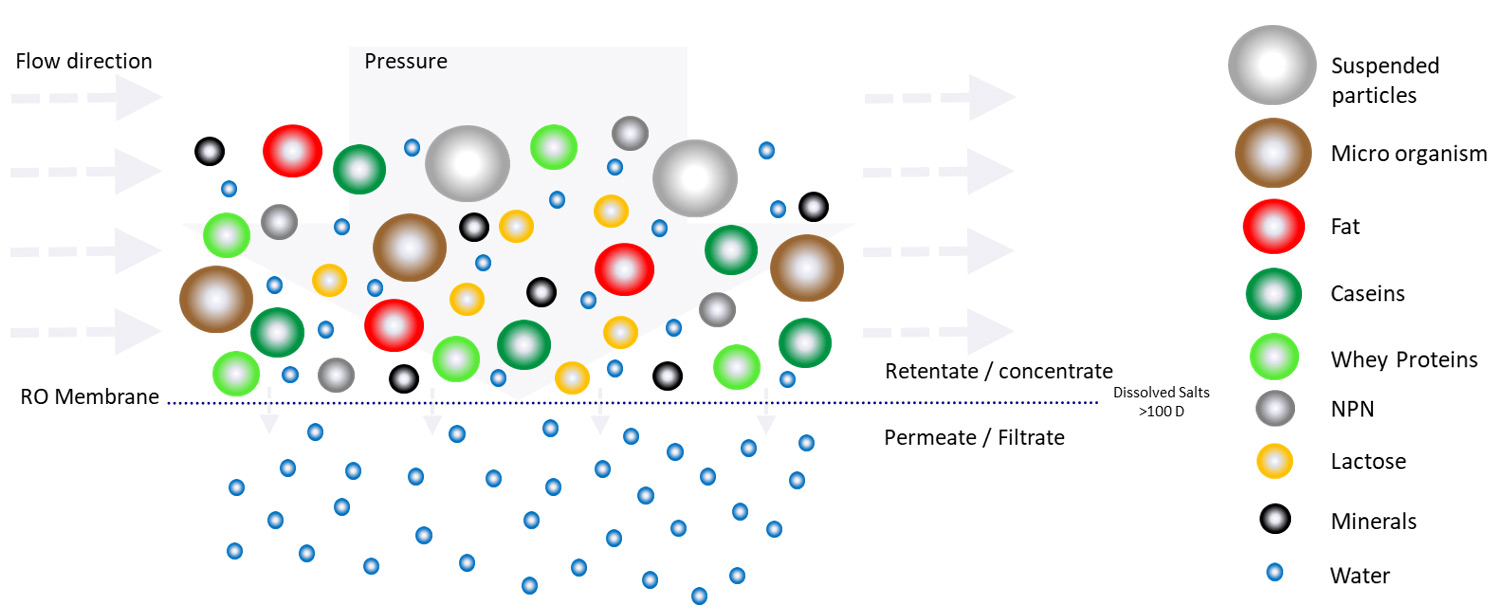 The basics on filtration technology
The filtration process is used to separate dissolved and dispersed components of different molecular sizes from a liquid.
By changing the size of the membrane filtration pores, it is possible to create the desired product capabilities by extracting the exact components, you wish.
Learn more about basic filtration
Innovative concepts
SiccaDania Filtration continuously improves designs and concepts, creating better and more efficient processes for membrane filtration.
The more than 200+ years of experience have given our team a unique insight into ways of improving membrane filtration.
Learn more about our innovative concepts such as LeanFlux.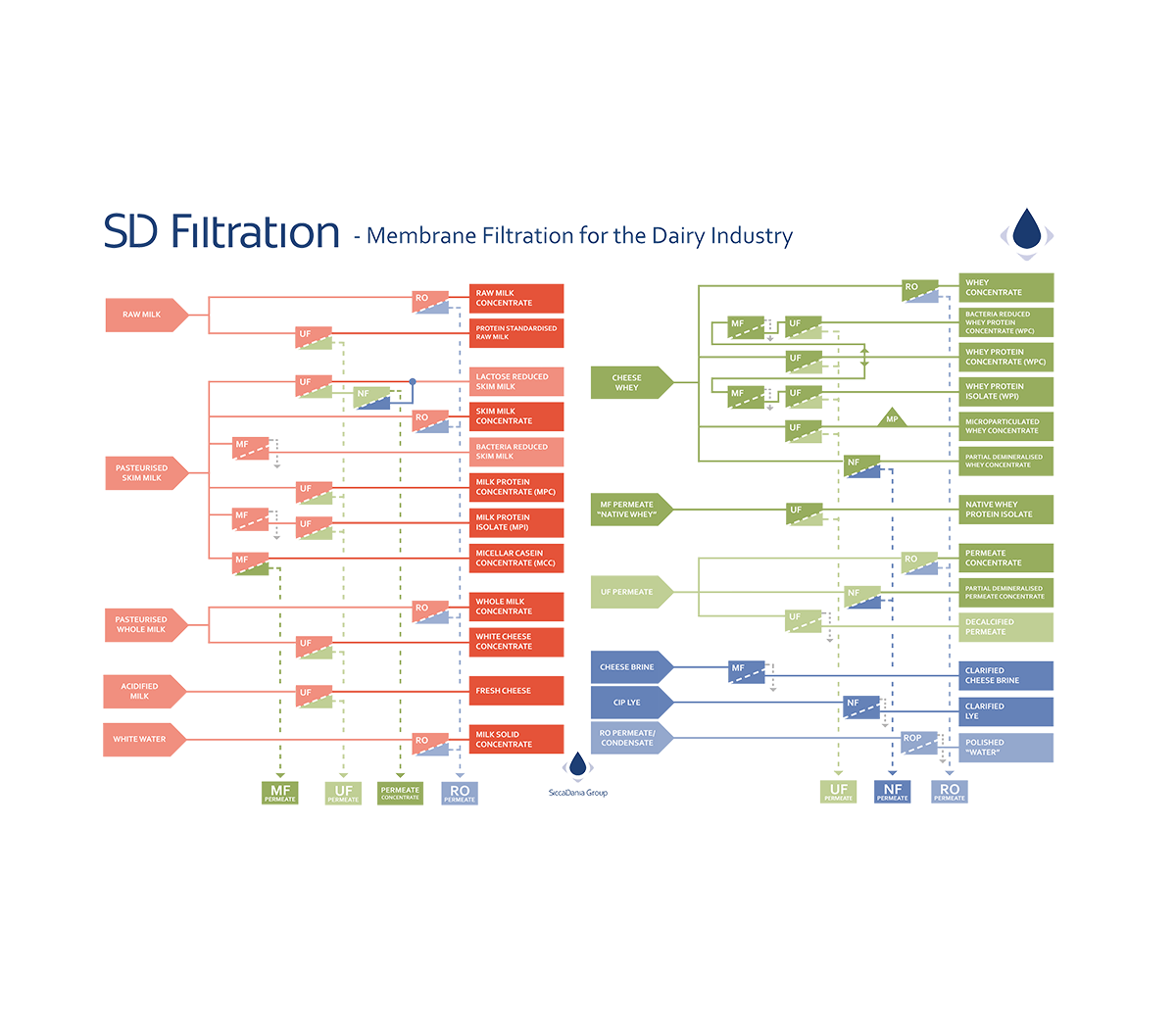 Membrane filtration for the dairy industry
SiccaDania Filtration is not a membrane manufacturer, however, we apply knowledge, science and practical experience to the individual applications and requirements in question. This ensures that customers benefit and reduce their risk, through our careful selection of the correct membrane for any given application.
Our ambition is to continuously share the knowledge and benefits of membrane filtration for dairy applications. For this purpose, we have developed the filtration application overview for your perusal.
Download the SiccaDania Filtration™ Dairy Map
The Dairy Map helps provide an overview over the applications of membrane filtration in the dairy industry. Here it is possible to find the applications and the corresponding technology.
Some applications:
Lactose reduced skim milk
Milk protein Concentration
Fresh Cheese
White Cheese
Whey concentrate
Native Whey Protein Isolate
Permeate Concentrate
Clarified Cheese Brine
Polished "Water"
Membrane filtration for the food industry
Starch:
Fat & protein removal (UF & Dia-Filtration)
Monosaccharide purification / upgrading to DE >98% (NF)
Sugar decolorization / color removal from sugar (UF)
Resin regeneration (UF/NF/RO)
Effluent concentration and the recovery of sugar and water (UF, NF, RO)
Production of high-fructose corn syrup (UF)
Concentration of sweeteners (NF/RO)
Fractionation of hydrolyzed starch –Molecular weight fractionation (maltodextrin purification) Range 3 kD to >100 kD (UF,MF)
Pectin:
Concentration before drying –from 0,3% to 3% pectin concentration (UF)
Carrageenan and alginates:
Concentration and purification prior to drying (High Temp UF)
Vegetable Proteins:
Vegetable Protein conc. & purification (MF/UF/NF/RO)
Single Cell Proteins:
Protein conc. & purification (MF/UF)
Viscous products:
Temperature/300cps/P&F/Spacer selection/Combi SW_P&F plant configuration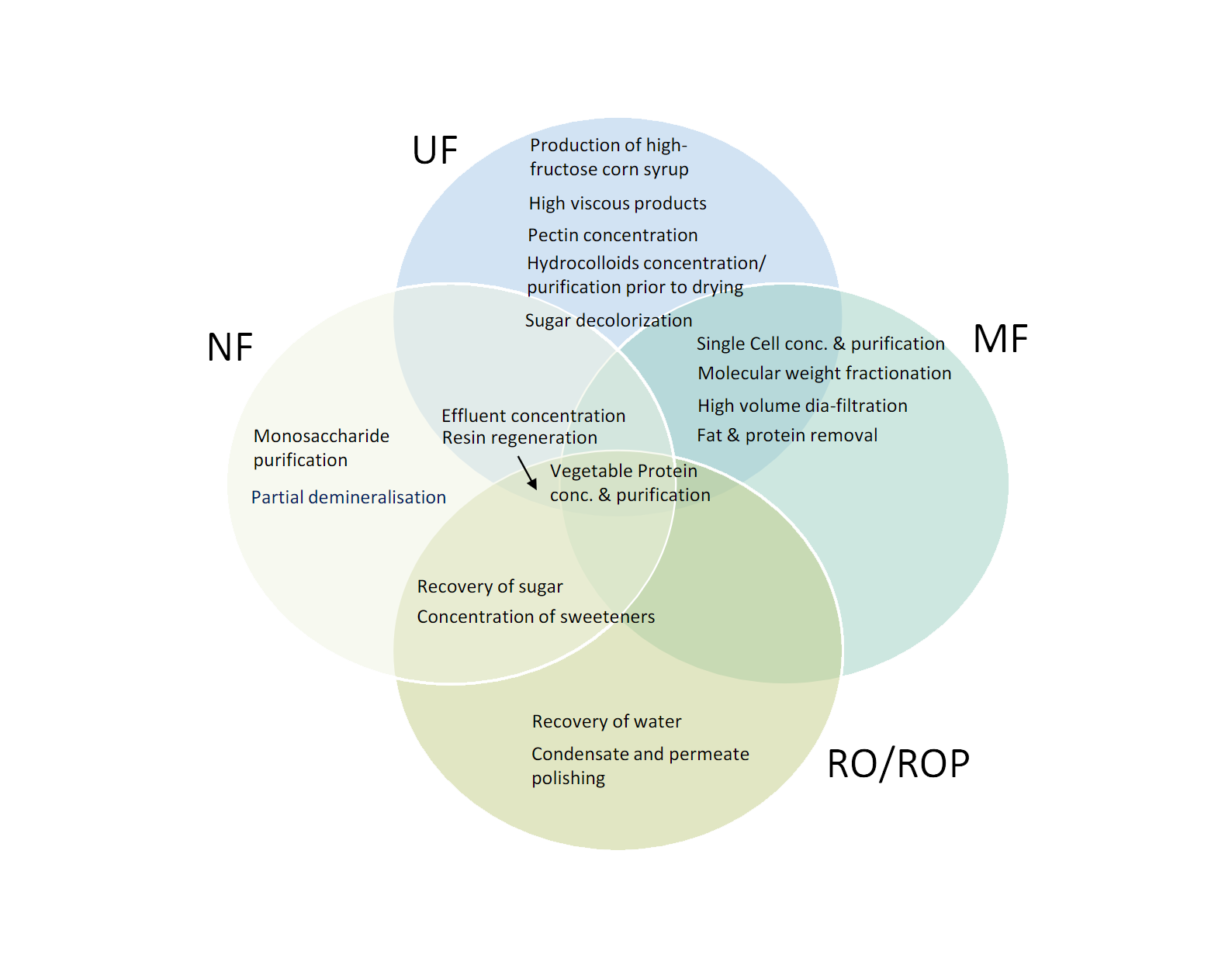 Get in touch with our Membrane Filtration Sales Team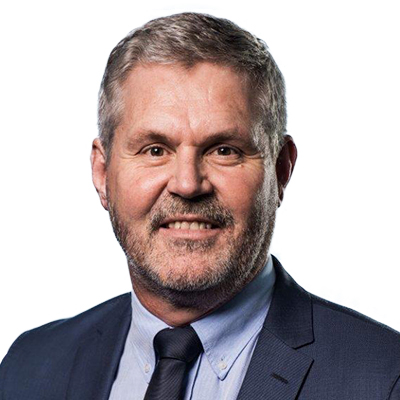 Lars Bo Fredsted
All applications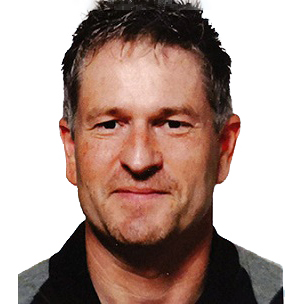 Morten T. Andersen
All applications
Want to talk to an expert?
Our team is always ready to start a dialogue. Give us a call or drop us a line.
Contact