The FD500 offers the highest hygienic standard in the industry and its flexibility enables it to be used in many setups and applications. The FD500 dryer is a plug-and-play freeze dryer that can optionally be delivered with CIP spray nozzles installed for full coverage of CIP- liquid.
FD500 is a hygienic bulk freeze dryer with an external condenser that can be isolated from the drying chamber. Heating for sublimation is supplied by electrical heating elements securing a uniform temperature gradient across the entire tray surface area. . This construction offers the highest level of hygienic design and eliminates the risk of silicone oil and heating water leakages within the chamber as well as reduced maintenance costs.
The design is optimised for upscaling and easy maintenance. The FD500 dryer features CIP spray nozzles which are installed for full coverage of the CIP liquid. It is manufactured from stainless steel, and all surfaces wetted by CIP-liquid are documented with either 3.1, FDA and/or FCM certificate.
Each module is designed for a complete assembly and function test in the SD Freeze Drying factory and will be shipped in a 20' container ready for installation – plug-and-play.
Applications
The FD500 freeze dryer is designed for drying nutraceuticals and dietary supplements e.g.:
Probiotic bacteria
Colostrum
Enzymes
Allergen extracts
While also working within the food industry for applications such as:
Fruits and vegetables
Whole meals
Instant coffee
Benefits of the FD500
Scalability:
Optimised flow, pressure and heat input secure a smooth up-scaling from FD30 pilot size to FD500 full scale
Reduced utility investment and maintenance:
For e.g. the heating for sublimation is done by electric heating elements, eliminating the need for a water or silicone heating system
Improved product integrity:
The risk of contamination by leaking water or silicone oil is eliminated using electrical heating elements for sublimation
Improved cleanability:
An isolated external condenser chamber combined with a state-of-the-art general hygienic design, means that the cleanability of the freeze dryer is very high
Skid-mounted:
The freeze dryer is delivered as a skid-mounted assembly in a standard container – tested and ready for installation. This minimises the need for on-site fabrication and reduces the erection time
Basic system
Fits in a 20' container
Stainless steel drying chamber
Stainless steel condenser chamber
Stainless steel condenser coil
Complete refrigeration system
Vacuum pump system with roots and dry screw pump
Pressure sensors (high and low)
Electrical heating shelves/plates
Natural anodized aluminium product trays
Touch screen control panel with PLC
Data logging
Defrost of condenser
FAT, SAT and CE-documentation
Hygienic design prepared for CIP
Design prepared for robot automation
Isolation valve
Options
CIP equipment for both chambers
CIP return equipment
Nitrogen purging
Pre-cooling of drying chamber
Sterile filters for in-/out-let flows
Manual wire stainless steel sheeted thermocouples for product temperature measurement
A double pressure sensor set
cGMP software and documentation package
Other versions
SIP-able + equipment
Silicone heating/cooling shelves/plates including system
Benefits of the FD500
Scalability:
Optimised flow, pressure and heat input secure a smooth up-scaling from FD30 pilot size to FD500 full scale
Reduced utility investment and maintenance:
For e.g. the heating for sublimation is done by electric heating elements, eliminating the need for a water or silicone heating system
Improved product integrity:
The risk of contamination by leaking water or silicone oil is eliminated using electrical heating elements for sublimation
Improved cleanability:
An isolated external condenser chamber combined with a state-of-the-art general hygienic design, means that the cleanability of the freeze dryer is very high
Skid-mounted:
The freeze dryer is delivered as a skid-mounted assembly in a standard container – tested and ready for installation. This minimises the need for on-site fabrication and reduces the erection time
| | |
| --- | --- |
| Number of trays | 48 |
| Input/feed capacity | ~ 1.100 kg / ~ 2.425 lbs |
| Cooling coil capacity | +750 kg / + 1.655 lbs H2O |
| Maximum sublimation capacity | 80 kg / 176 lbs H2O/hour |
| Unit dimensions, W x D x H | 2,2 x 7,2 x 2,5 m/ 7,2 x 23,6 x 8,2 ft |
FD500 data sheet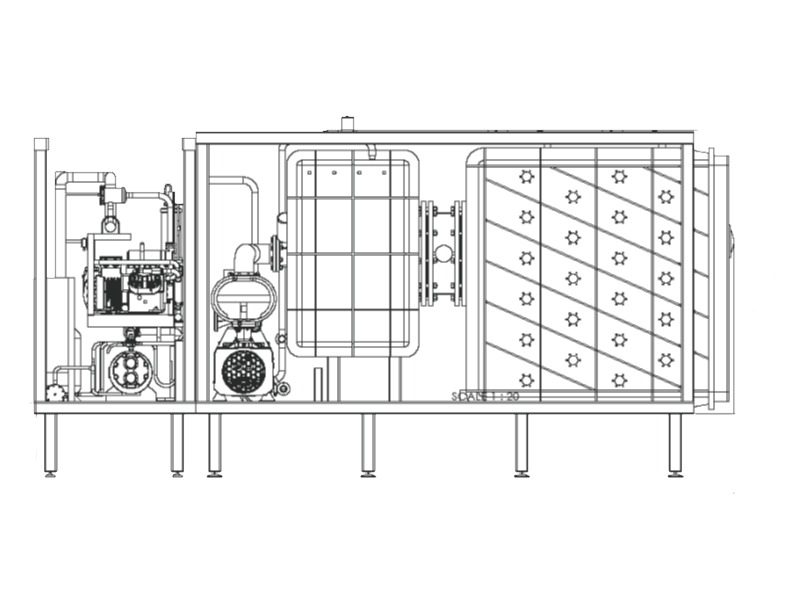 Download