We are proud and honoured to receive the Business Award 2020 for sustainable business development from the Municipality of Rudersdal in Denmark. Rudersdal Municipality helps businesses with green, environmentally and circular business environments, this also cultivates business within the municipality. They award companies for creating growth and new work positions while focusing on environmentally friendly initiatives.
Circular economy and innovation
SiccaDania A/S, located at Pilehøj 18 in Birkerød's industrial district, won the Municipality of Rudersdal's Business Award 2020 for their success with sustainable business development:
"SiccaDania is an industrial company with a global market and value chain, and a focus on circular economy and innovation. It is a six-year-old company that works with solutions for dairy, food and starch products, etc.. This could be products from food sources considered to provide additional health benefits beyond the basic nutritional value. Since the establishment, the company has grown from 10 to over 400 employees in several countries". – Press release from Rudersdal Municipality.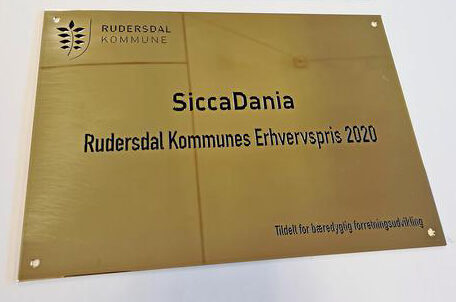 We believe that the only way ahead is by creating sustainable solutions for our customers. With our technology and process developments, we focus on minimising energy consumption, optimising yield and decreasing water usage. Our One In All Out process focuses on full valorisation of the crop and reuse of water in the process. With the newest innovation, LeanFlux, we help our customers decrease energy consumption and OPEX while increasing output.
Our foundation is built on innovation, and we innovate toward a brighter future by minimising our impact on the environment.